Trade fair 4.0
Live the "mp Experience"
Every year we realise over 10.000 system construction projects all over the world. This makes mp not only the strongest player in trade fair construction in Germany as far as implementation is concerned. It also makes it the leading expert, when big halls need to be equipped within a short amount of time. We face the challenges of fair trade companies and have developed know-how as well as technologies, which make trade fair stands not only impressively beautiful, but also let them be economically relevant as well. For us this means: a perfect interplay of logistics, knowledge and service. We call it mp-Experience. And this is why.
One
booth constructor
3 million
possibilities for your exhibitors
Your customers want to save money, time and effort. Nevertheless, your stand should be individual and flexible. For us, this is not a contradiction: Our system stands are capable of what everyone else can do and so much more. We not only have the most extensive stock of materials of Octanorm and MaximaSystem in Europe at our disposal, we have also constructed our own trade fair construction system, called "Megawal", a modular frame system with self-supporting construction and high quality impression. It unites price and flexibility of a simple stand construction system with the design optics of individual construction.
Quality
Let there be light!
A perfect stand only shines under the optimal lighting. We exclusively supply LED and guarantee such an illuminating result. See for yourself!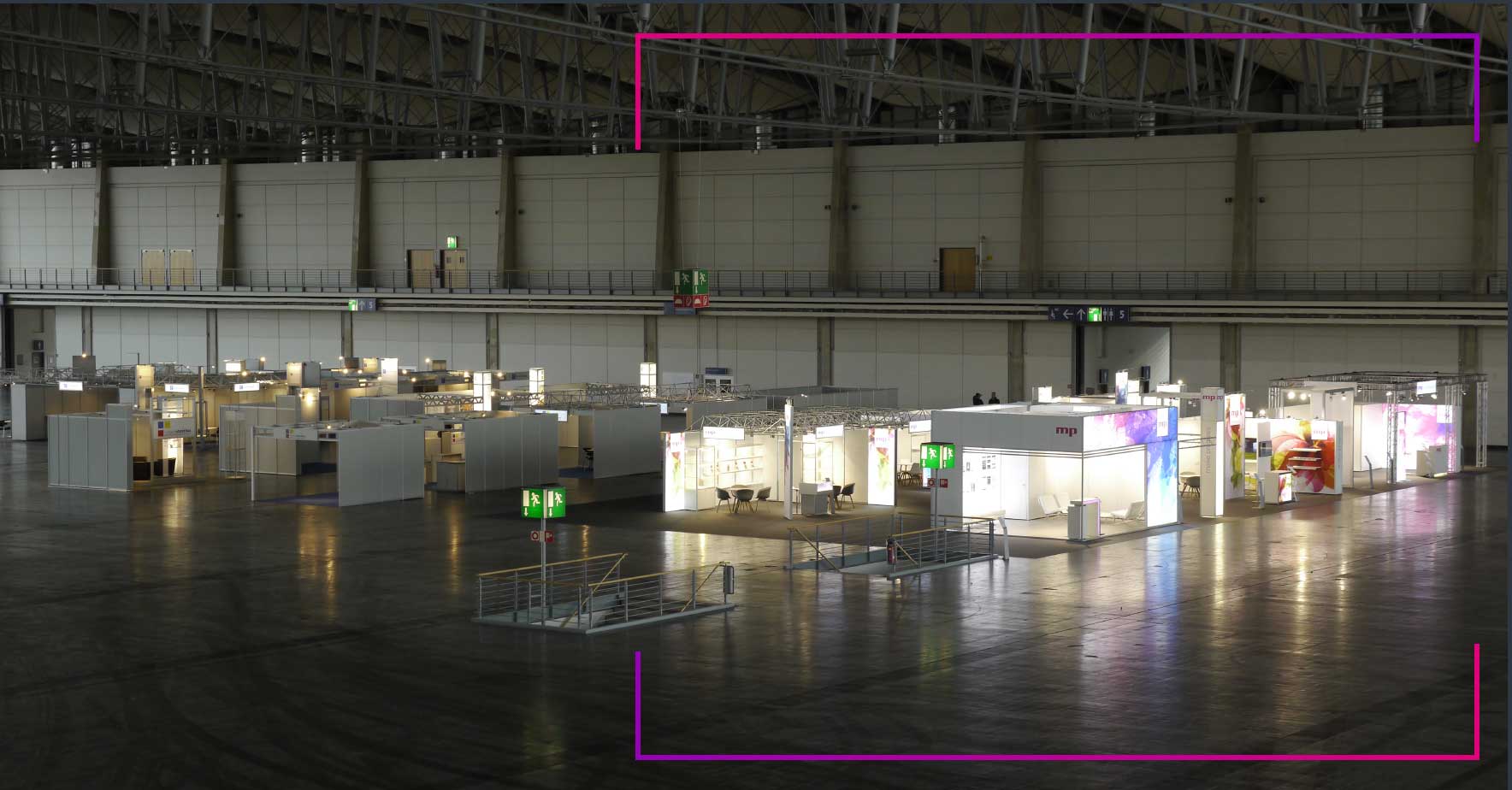 Comparative construction of system stands at the trade fair Hannover.
On the left: Stands with conventional lighting, on the right: with mp LED-technology.
Visibility
3.2x

brighter compared to conventional lighting
Performance and flexibility at its best
We build every idea.
And we do it fast.
Our employees, our experience and our logistics are our strength. We realise every idea, build on every hall area at trade fairs and every outdoor area at events. And we do it exceptionally fast.
Assembly area
15 football fields in 3 days
Using mp system construction technology, 100.000 m² of gross surface area can be realised within just three days. This is truly impressive.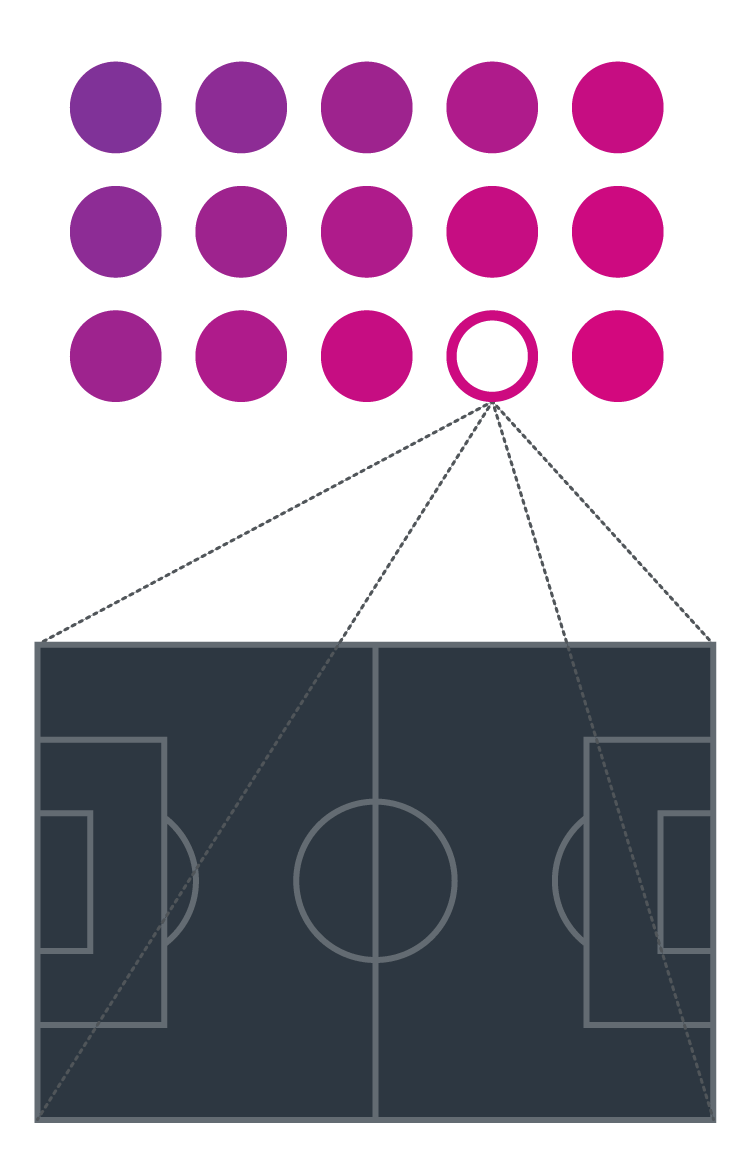 MP Experience
One more thing ...
Our employees, whose strength of implementation as well as the required know-how of the industry are the backbone of trade fair 4.0 at mp. But this is not where our expertise ends. For us, this is just the starting point heading to a new dimension. An idea, how trade fair business can be made easier and more efficient for our customers and exhibitors. Therefore, as a mp partner you have exclusive access to our unique portfolio of highly efficient digital logistics and service tools, which have been used successfully many times and have won awards. Get to know our digital solutions to make your everyday life easier and more flexible.
System solutions
Your gains at a glance
Satisfied exhibitors

95% according to the exhibitor survey, trade fair Düsseldorf 2017 (grade: 1,4)

Octanorm to Megawall systems

Solutions to every need

100 % colourfast LED light

At the applied lighting for the stand

digital logistics process

All service providers in view: From assembly to handover using our assembly app

optimal sales support

Application of our configuration tool

Added value for your exhibitors

Use of our lead management app
Our partners Our customers
"A lot of power and a modern logistics software"

"We are one of the biggest trade fair companies in Germany, offering an area of 292.000 m² in 17 halls, housing 35.000 exibitors every year. There are only few trade fair constructors, who are able to plan and realise system stands on such a scale in such a reliable way as mp. The experts have been our constant partners with their modern system stand construction "Megawall" since 2015. mp does not only build fast, big, flexible and reliable, the company also supports us as an innovative service provider with their own controlling and logistics app."

Wolfgang Prager, Director Service Division

Messe Düsseldorf GmbH

"Friendly, trustworthy and fast "

"We were able to convince the company mp Messeprojekt GmbH to take over our offer of stand construction as one of the four stand construction companies working at the ACHEMA 2018 in Frankfurt am Main. We offer exhibitors from about 55 countries their own ordering portal for an area of about 132.000m². Many exhibitors, who were supervised by mp, have consistently given positive feedback. The collaboration with mp has always been very friendly and pleasant, as well as trust-worthy, competent, quick and pleasant."

Dr. Thomas Scheuring, Managing director

DECHEMA Ausstellungs-GmbH

"Friendly, trustworthy and fast"

"mp organised everything for us brilliantly. We were very happy about the professional dedication of the team, which included a superb consultation as well. It does not happen every day, that you meet someone, who thinks along so well (for example remembering the Lan cable). I would love to work with them again anytime and recommend mp whole-heartedly."

Melanie Bense, Senior Marketing Program Manager

QlikTech GmbH

"Convinced by consultation "

"The sales department of mp has delivered good and financially feasible ideas for the realisation of our concepts. They also gave us excellent consultation. mp convinced us with a redesign of our trade fair concept using a stronger focus on the use of multi media and establishing a reception area for casual conversations at high tables and a bar. All of that was exactly what we needed. Our customers as well as our employees were very happy with the results."

Claudia Geldmacher, Corporate communication

Ludwig Pfeiffer Hoch- und Tiefbau GmbH & Co. KG